Products
Garden Furniture, Decking, Timber, Lights, Hardware, BBQ and more...
Below you'll fing a short overview of our wide range of products available in stock.
Garden Furniture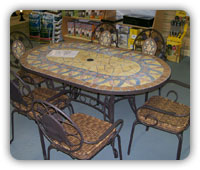 Most of our 5000 sq ft shop is taken over on our garden furniture displays. All furniture is bought by container loads to ensure the best prices avalable to the customers. Where price is vital we have also concentrated on getting the highest quality pieces. All our timber furniture is imported and folds away for the winter if required. All styles of covers are also available. All our metal furniture is made from Cast Aluminium and carries a five year rust free gaurantee. The ranges are beautiful and strong but MUST be viewed to appreciate it.
Decking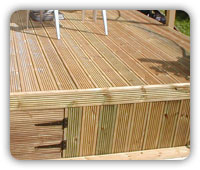 All decking at Laois Garden world is the highest quality Imported kiln Dried and pressure treated. Our competitive price is due to the large amount we import and distribute throughout the country. The highest quality decking screws, stains and oils are also sold to compliment our decking. It really is a one stop shop!!!
Timber Products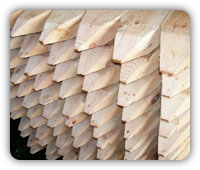 Laois Garden World is a subsidary of Laois Sawmills. Our sawmills cut 5000 logs per day and enables us to stock a large range of timber products and reduced prices due to the direct supply. Products such as posts, rails, fencing, sleepers and many more are in plentiful supply at factory prices.
Water Features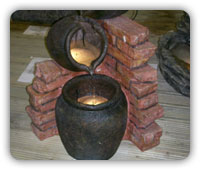 All our water features are made from the highest quality resin. With its self contained pumps and lights you just need to plug them in a off they go. No Tap is required. These features are just filled up with water and recycle constantly. Our beautiful display explains it all!!
Garden sheds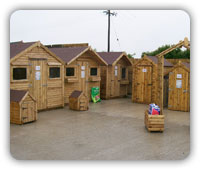 With our huge display it is obvious to see the high quality of the sheds we are selling. All the timbers are pressure treated with timber preservative in assure long life. We have 3 ranges: the Rustic, the Ship Lap and the barrell boards. Features like double doors, extra windows, verandas and many more can be accomodated. All prices include delivery and erection.
Light Features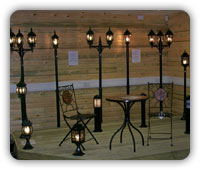 Our lighting features can be broken into 2 types: Solar and Electrically powered. From triple head outdoor lights to the small decking lights, we carry a wide range which are on view in our big lighting display. Come see it to believe it!!!!
Outdoor Structures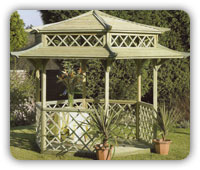 Outdoor Structures such as Gazebos and swings are also on display. All of these are made from hardwaring and pressure treated timbers to ensure a long life. Here again value and quality work side by side.
Stone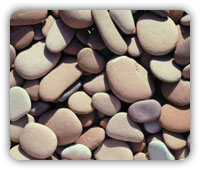 All our stone products are on display also. We sell in both 25kg bags and tonne bags. Our wide range should cover everyones tastes.
Pots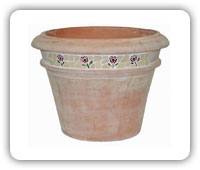 We are also carrying a wide range of ceramic pots. With all the sizes and colours available you will go home happy!!!
Garden Hardware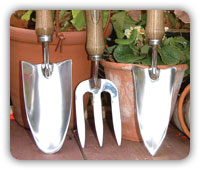 To compliment the above range we stock a wide range of garden tools such as shovels, spades, hedgeclippers, hoses etc.
Fuel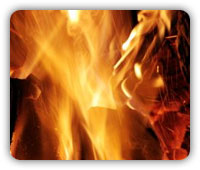 As the winter comes we will stock coal, briquettes, logs and wood pellets. With our truck deliveries will be made or collection if preferred is available.
Xmas Time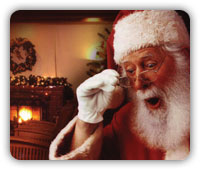 When the Xmas spirit is among us, spare a thought for Laois Garden World as we are going to be sellling everything from Christmas Tree to all types of lights and decorations. Our ample parking and hugh space will make it a pleasant expierience for all.